CAPTURE THE AUDIENCE
SlideDog is a multimedia presentation tool that lets you combine PowerPoint presentations, PDF files, Prezi presentations, movie clips, web pages, and more into one innovative, seamless viewing experience.
Presentation playlists
With SlideDog, you can create custom playlists for all your presentation files and media. Just drag your files into Slidedog—then arrange, save and play. Everything in one playlist, exactly the way you want it.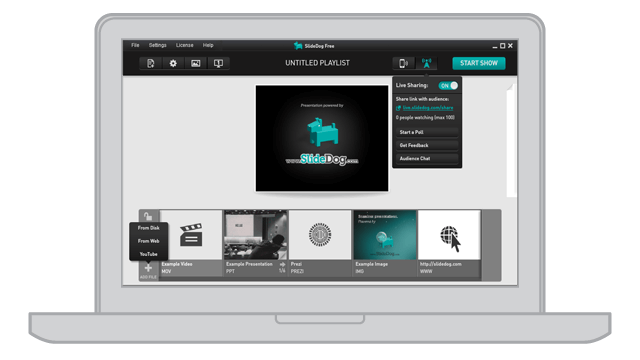 Create custom SlideDog presentation playlists for all your media needs.
When you have different media to display and want to easily switch back and forth.
When you have multiple speakers, in meetings or at conferences, and want to seamlessly switch between their presentations.
When you have demonstrations or sales pitches where you often switch between a slide deck and a website.
When you have timed presentations with different file types (you can configure SlideDog to auto-advance and loop the playlist).
UNLIMITED POSSIBILITES: In addition to adding files from your desktop computer, we add the power of the Internet. With SlideDog, you can easily integrate content from free public web resources like YouTube to extend functionality and quickly add pre-formatted content to your slides.
SlideDog lets you remotely control the presentations and playlist from your smart phone, tablet or secondary computer. You can also share your slides in real-time with the audience.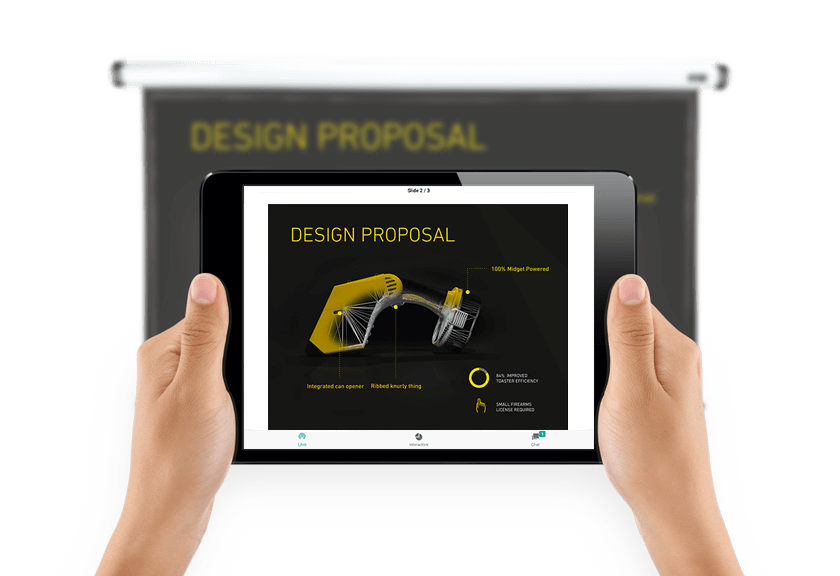 INTERACTIVE ELEMENTS
Capture your audience by adding interactive elements to your presentation.
SEAMLESS SWITCHES
Once you load up your playlist with presentation media, SlideDog instantly switches between the files.