Thank you for visiting this page! You probably got here from Google, searching for some presentation software alternatives, right? There are tons of blogs out there, like ours, trying to outdo each other by having the most comprehensive list of certain topics. To be honest, most of the lists you'll find in the top results on Google are.. well, not very good. They mostly opt in for quantity rather than quality, listing a huge number of superficial descriptions of products and sprinkling buzzwords and industry jargon in between. This is standard SEO tactics, and that itself is not a problem, but the validity of the content in those kinds of blog posts is seldom checked or updated with new information, especially with large lists having entries in the double digits. Often the information you find in these lists are stale, but is made to seem fresh by a recently updated publish date..
So – What about this list?
Although this list, just like our competitors, is made to pique your interest in SlideDog, I hope that we can provide a better, more valuable collection of quality presentation software. We will not try to list 50+ PowerPoint "alternatives", bashing Office PowerPoint and claiming it's dead with no other reason than it being mature, stable and the de-facto slide creation tool for grown-ups. And we are not going to list every "presentation related" software we can find, calling it an alternative regardless if has a totally other purpose and provides less than 1% of PowerPoint's features. On the contrary, this list is going to be about actual slide presentation software. That means no listing of animation-software like "Vyond" or "PowToon", sales & marketing-software like "CustomShow" or "ClearSlide", and publishing platforms like "SlideShare (LinkedIn)" or "SpekerDeck". Those are categories of their own and deserve their own listings. We are going for an opinionated and prioritized list that is comprehensive, but not bloated, and focuses solely on slide creation software that we consider as real alternatives to PowerPoint. And we are going to keep this list up to date.
A note about SlideDog
SlideDog is not a real PowerPoint alternative, and hence not on the list, but we do believe it is a great supplement to all the products that we mention here.
In short, SlideDog presents your files seamlessly and professionally to the audience at meetings, events, sales presentations, conferences, lectures and more. It is a Windows application that lets you switch between various presentation media such as PowerPoint, PDF, Prezi, video and web pages. It's perfect for people who use multiple forms of media in their presentations and a great tool at events where you have multiple presenters. To learn more about SlideDog and its other features such as Live Sharing, Audience Interaction and the SlideDog Remote App, check out the features and download the free version.
Now, to the list you've been waiting for:
Presentation Software of 2023 – Office PowerPoint & Real Alternatives
The current state of Office PowerPoint
PowerPoint, the king of the presentation software space that virtually everyone reading this has some form of experience with, has been around since the eighties and has always been a part of Microsoft Office. Their market share of the world's presentation software is estimated to be at least 90% by various sources (Wikipedia), making it the world's most successful presentation software ever. Even though recent browser technology has made it possible for everyone, from start-ups to tech giants like Google, to create viable web-based alternatives to PowerPoint, their domination hasn't been significantly challenged.
Although seemingly being somewhat slow to implement new ideas, Microsoft, in their latest version of PowerPoint, have started taking their competition seriously. The new "Zoom for PowerPoint" and "Morph Transition" features, that's included in PowerPoint 2019 / Office 365 are clearly inspired by Prezi's success formula of "zooming presentations". Their collaboration feature, allowing you to simultaneously work on a presentation with your colleagues, also seems to be getting closer to the seamless experience pioneered by Google in Google Docs and, more relevant to this article, Google Slides.
When talking features, it's worth mentioning that although PowerPoint is available on multiple platforms, including mobile devices and web, there are significant differences in the feature sets and user interfaces. The Windows and macOS versions also have some document format compatibility problems, making it a constant pain of knowing if your slide deck will play back correctly on a different computer than your own. For some people this, paired with PowerPoint seeming less innovative than their competitors nowadays, is a good enough reason to use something else.
In addition to the feature fragmentation between platforms, you also have differences between the pay-once standalone version of PowerPoint 2019 and the constantly updated PowerPoint you get with an Office 365 subscription. To be honest, it's quite confusing. Even their own ad-department can't seem to explain the differences in simple terms.
Today, PowerPoint is uber-popular and overall the champion of the presentation software market, but if you take a closer look at certain groups of users, you will see that there are other players dominating. Tech giant Google is investing heavily in changing the habits of the future workforce by pushing their Chromebook laptops, Google Classroom platform and their PowerPoint alternative "Google Slides" to schools worldwide through their Google Apps for Education Suite. Kids, growing up on Chromebooks, and students, being Internet natives, have no problem getting their presentations done using Google Slides, which is also included for free for everyone with a GMail/Google account.
Type of software:
Mobile (iOS & Android) + "Web based" with an Offline editor available as a Chrome App (requires Chrome browser or Chrome OS)
Capabilities:
Converts PowerPoint Files to Google Slides and vice versa.
Seamless real-time collaboration including chat, comment and review features.
Supports beaming to a secondary screen using Chromecast and AirPlay.
Presenter View with notes and upcoming slides enabled by a secondary browser window.
Built in audience interaction, allowing questions/comments that will show up in Presenter View.
Supports using an iOS or Android device as a remote control and for viewing speaker notes.
Present to a remote audience using Google Hangouts (Google's online video conferencing solution).
Tightly integrated with other Google apps, including YouTube.
In the context of tech giants, it would be wrong to not also mention Apple, who ships most of their phones, tablets and laptops with their PowerPoint alternative "Keynote" pre-installed. Maybe, if they decided to loosen up and make the Keynote file format cross platform, with both editors and viewers available on Windows and macOS, they could take a significant chunk of PowerPoint's market share. But for now, Keynote is mainly used by people that have committed themselves to the Apple ecosystem, using Apple's laptops, phones, watches and more. Although you can export your slides to PowerPoint, it won't guarantee that everything will be presented the same way. Often, exported files lose bits and pieces of the graphics or animations used. If it hadn't been for the exclusivity of the Keynote file format more people would likely be willing to do the switch as Keynote's feature set is on par with what PowerPoint has to offer.
Type of software:
Desktop + Mobile (iOS & Android) + Web (requires iCloud account)
Capabilities:
Can open, edit and save PowerPoint files. Existing Keynote presentations can be exported to PowerPoint. Beware of glitches caused by the file type conversion.
Keynote presentation editors available for iOS devices and macOS. Edit and present with mostly the same feature set on both laptop and phone/tablet.
Browser based editor available on iCloud.
Built in Live Collaboration similar to Google Slides.
You can control your Keynote presentation from an iOS device using Keynote Remote available on iPhone, iPad or iPod touch.
Has a presenter view with notes and a preview of the next slide, similar to Office PowerPoint.
Present remotely to an audience with Keynote Live using an Internet connected Mac, iPad or iPhone.
For the uninitiated, LibreOffice is a community-driven, free and open-source office suite. It comes with Impress, a desktop software for creating and editing slide presentations, similar to Microsoft PowerPoint and Apple Keynote. LibreOffice, currently at version 6, is available for Windows, Mac and Linux. There's also LibreOffice Online, that you can download, install and self-host on a private server. It will let you edit documents and create presentations using your browser, similar to Office PowerPoint Online and Keynote on iCloud. A general LibreOffice document viewer is available on Android, but Impress even has its own remote-control app available for both Android and iOS.
Type of software:
Desktop + Web (self-host / self-configure)
Capabilities:
Can open, edit and save PowerPoint files, but beware, not all of PowerPoints features are implemented in LibreOffice, meaning fonts, images and drawings may appear scrambled or not at all.
Offers a server version with Live Collaboration features similar to Google Slides.
You can control your Impress presentation from a tablet or phone using Impress Remote available to iOS and Android devices.
Has a presenter view with notes and a preview of the next slide, similar to Office PowerPoint and Apple Keynote.
Offers a repository of online available slide templates.
Includes 3D model support for the open formats of glTF, COLLADA and KMZ.
Slides.com (formerly Slid.es) is a web-based alternative to the previously mentioned desktop focused apps. It tries to set itself apart by taking a minimalist approach to the user interface, instead of mimicking Office PowerPoint's somewhat complicated UI design. This, and the fact there's no need to download or install anything, makes it easy for beginners to get started. Your Slides.com account comes with online storage space, letting you publish your presentations on the web. As mentioned in the introduction, there are many web-based alternatives to PowerPoint, but Slides is one of the few that we think can act as a viable PowerPoint alternative, along with Google Slides. An unique feature in Slides is that exported/downloaded slide decks are pure HTML, CSS and JavaScript, which means they can be self-hosted and customized down to the last line of JavaScript.
Type of software:
Web-based
Capabilities:
Can import PDFs and PowerPoints, turning them into a Slides presentation, but won't translate all fonts and media correctly. You are usually better of starting from scratch.
Web-based presentation view / remote control, using two browser windows – one for notes and upcoming slide, the other for the audience.
Publish and make your presentation available to others.
Present live to a remote audience by broadcasting your presentation.
Supports live editing during a presentation. Changes are immediately visible to all viewers.
Exports to PDF or download slide deck as HTML/CSS/JS-bundle for offline presenting.
Supports videos by converting uploaded files to browser-friendly .mp4 video files.
Has its own "Developer Mode" that unlocks advanced features. You need to know some HTML and CSS to take advantage of this.
Team account has features for collaboration, analytics and shared templates. Also available as an on-premise (Intranet) installation, making it independent of Internet access.
Zoho Show is a part of Zoho.com by Zoho Corporation, a web-based online office suite. In addition to the standard document, spreadsheet and presentation editors, it also comes with CRM, project management and invoicing tools. The company and its products are mature and was one of the first real web-based alternatives to Microsoft Office. Just as its web-based competitors, Zoho Show lets you create, collaborate, present, broadcast, and publish presentations directly in your web browser. Its PowerPoint import feature is quite good, but you'll have to manually double-check that all formatting is preserved. Their live collaboration feature feels seamless and matches that of Google Slides. Dedicated apps for Apple TV and Android TV let you beam your presentations to a conference room.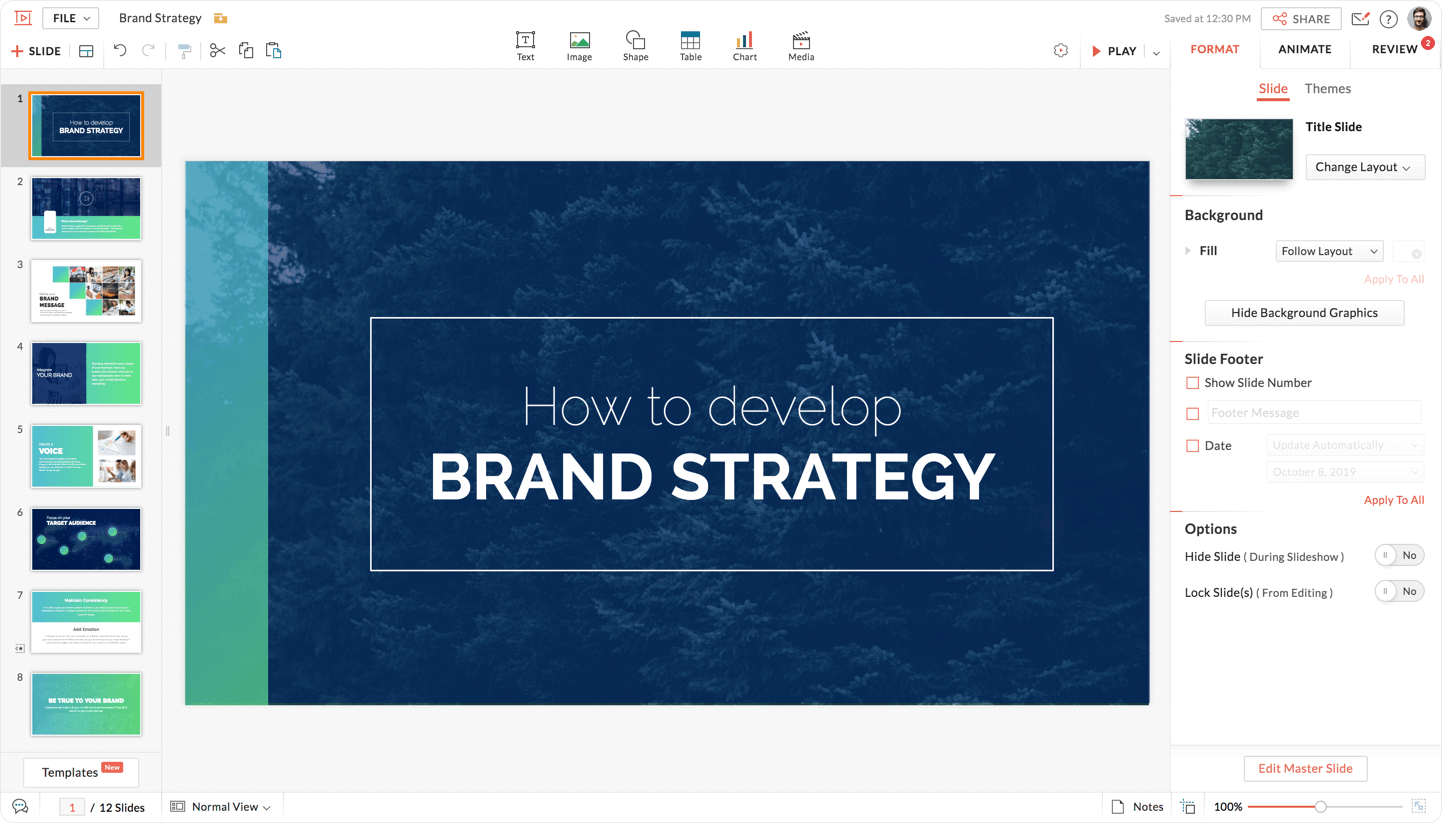 Type of software:
Web-based with native editor apps on iOS and Android. Separate viewer apps for Android TV and Apple TV.
Capabilities:
Can import PDFs and PowerPoints, turning them into a Zoho presentation. Conversion is rather good, but not always perfect. You can export presentations to PDF or PowerPoint.
Web-based presentation view / remote control, using two browser windows – one for notes and upcoming slide, the other for the audience.
Publish presentations internally, for your organization, or publicly on the web. An iframe embed code snippet can be generated for direct integration with existing websites.
Stream your shows live to your Apple TV, Android TV or Chromecast.
iOS and Android app for authoring Zoho Shows on mobile devices.
Dedicated Chrome extension that improves the overall speed and experience of working with the web-based editor.
Alternative 6: Prezi
Prezi is one of the more, if not the most, innovative alternative to PowerPoint. Instead of the traditional PowerPoint approach of digitizing the analogue slide overhead projector, using an ordered set of slides with a linear narrative, Prezi tries to break free by introducing a zoomable mind-map overview and promoting "conversational presenting". Prezi is loved by presenters who prefer to deliver information in a more organic flow and who are comfortable not following a scripted path. As the latest version of PowerPoint now also includes Zoomable Presentations, the zooming transition effect isn't any longer unique to Prezi presentations. Prezi Next, which is the latest version based on HTML5 technology (the previous version used Flash), features much of the same building blocks as the other web-based alternatives in this article; An online editor, presenter view, private and public publishing, PowerPoint import and PDF export. Prezi Next also features native desktop apps that allows for offline editing and presenting. It is possible to share a Prezi Next presentation by downloading a portable and executable version of your Prezi, both on macOS and Windows. Note that most of the really useful features, like portable presentations and presenter view is only available in the relatively expensive Plus package.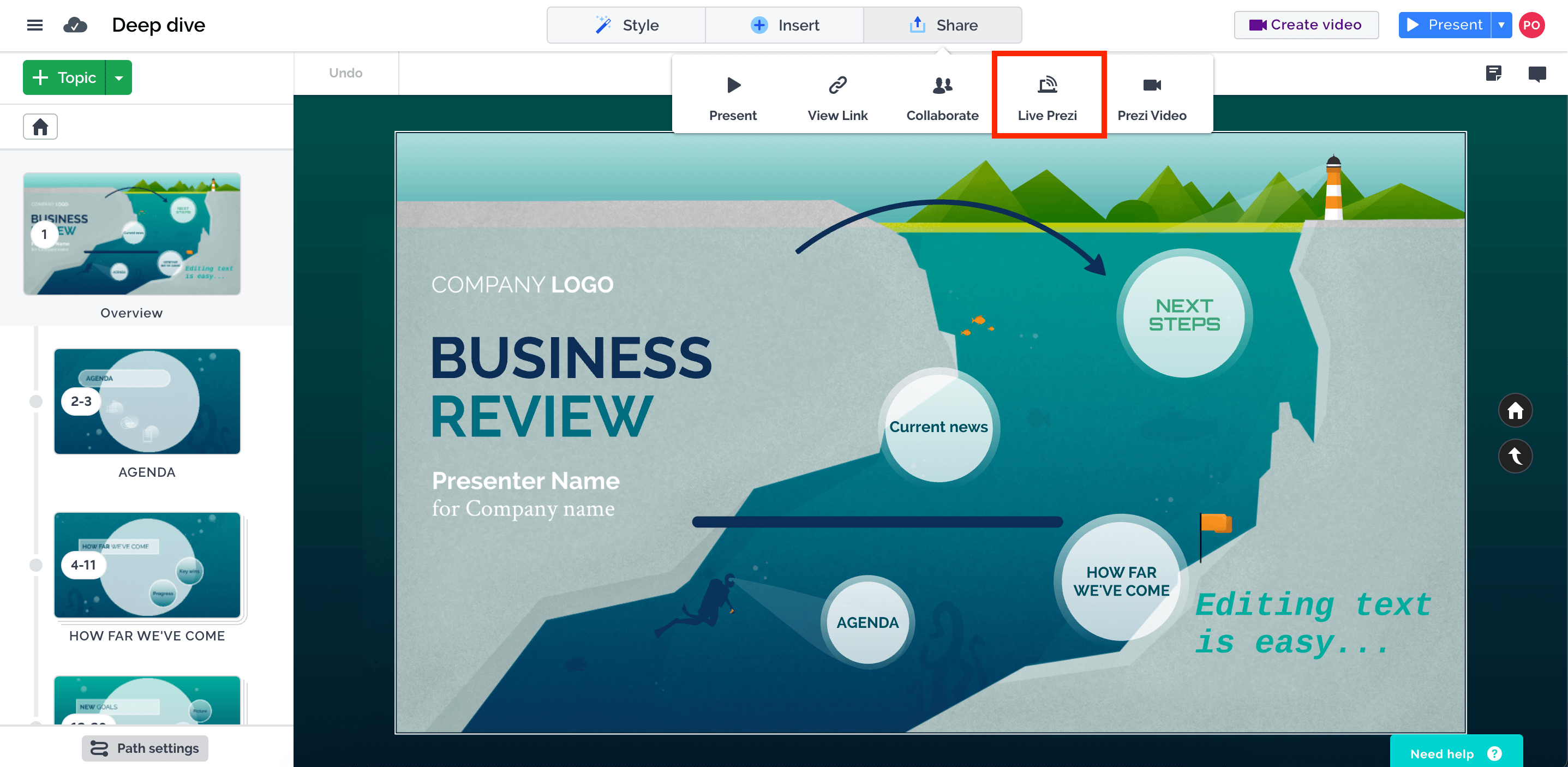 Type of software:
Web and desktop editor. Separate viewer apps for iOS and Android.
Capabilities:
Can import PowerPoints, turning them into a Prezi presentation. You mostly get the correctly formatted content of the slides, but you have to turn it into a proper zoomable mind-map Prezi on your own.
Desktop (Mac and Windows) and web-based editor (does not support Internet Explorer).
Presenter View in desktop editor (requires Plus or Premium account).
Viewer app for iOS and Android. iOS version can beam to Apple TVs. Viewer app also works as Bluetooth enabled remote control for the desktop app.
Publish presentations internally, for your organization, or publicly on the web.
Prezi analytics, providing you with insight on the how your shared or published presentations are engaging the audience (Premium accounts only).
Summary & last words
In this article we've presented the current state of PowerPoint and six alternatives that we consider viable PowerPoint replacements. The alternatives are listed in a prioritized order, according to our preferences. Keep in mind that our preferences change along with the products mentioned being further developed and improved by their creators.
We think the current trend of presentation software being built on web technology (HTML5), and primarily as web applications, are going to continue. That being said, PowerPoint on the desktop still has over 90% market share and will likely continue to be the de-facto presentation tool for most people for quite some time.