What is SlideDog?
SlideDog presents your files seamlessly and professionally to the audience at meetings, events, sales presentations, conferences, lectures and more. It is a Windows application that lets you to switch between various presentation media such as PowerPoint, PDF, Prezi, video and web pages.
It's perfect for people who use multiple forms of media in their presentations and a great tool at events where you have multiple presenters. SlideDog also comes with audience interaction features built in, letting you add polls, Q&A sessions and feedback questions to your presentations. You can even let your audience follow your slides on their own devices using the SlideDog Live Sharing feature.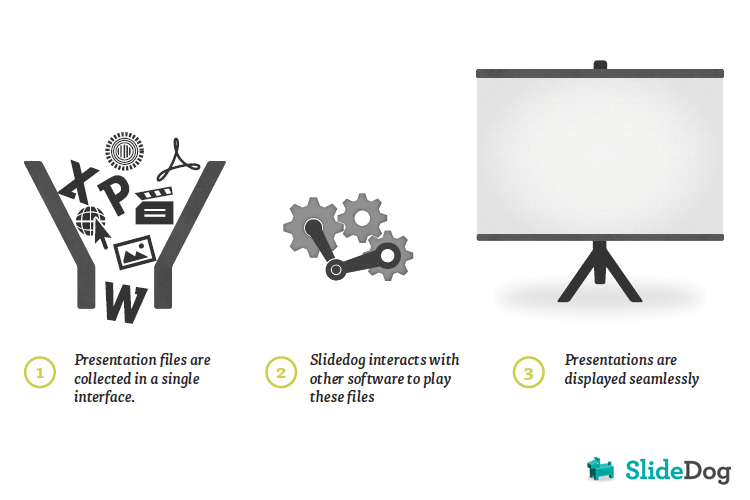 At its core, SlideDog works as a launch pad for presentations. It detects what software you have installed on your computer and uses the best available programs to launch your different media. All this happens behind the scenes, and only using the SlideDog user interface, making it seem like SlideDog itself is playing and switching between the PowerPoint, Prezi, PDF and video files, when in fact the files are being played back by appropriate file viewers. This way SlideDog can ensure perfect playback and seamless switching of presentation files while enabling you to control the different files through the SlideDog interface on your PC or using the SlideDog remote app for iOS and Android.

As mentioned, SlideDog is also a great audience interaction platform that allows presenters and attendees to connect in real-time through their phones or any device with a web browser. This allows presenters to share a live stream of their slides to the audience, send polls, get feedback and have Q&A sessions. By using the SlideDog app for iOS and Android, presenters can furthermore switch between presentation files, change slides, pause videos, read notes and much more from the palm of their hand.