Top 5 Presentation Tools and Software, According to a Presentation Pro
Dag Hendrik Lerdal
Updated on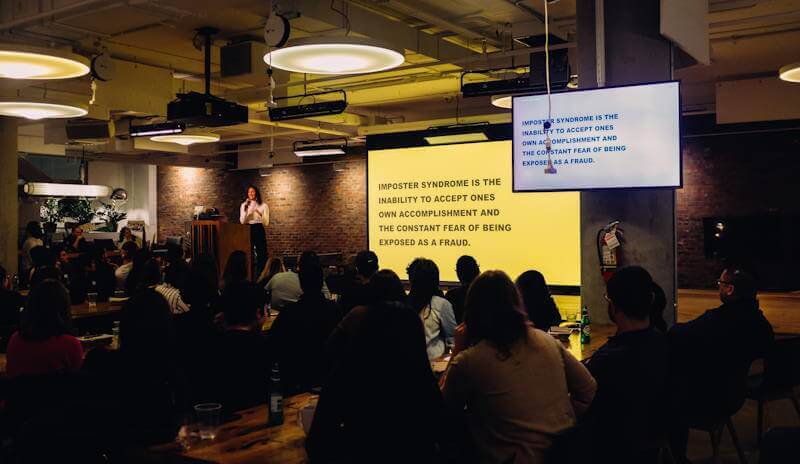 As you've all noticed, PowerPoint isn't the only available presentation tool for creating digital slideshows anymore. Young start-ups and established players are eating away at their 90% ownership of the presentation market, and each day, a new species of the slide-tool animal kingdom is discovered.
The biggest reason for this boom in online presentation software is that the browser has become more powerful. Modern technologies, open-source libraries, and more powerful devices have made it possible to rapidly create advanced web applications that can do nearly the same as PowerPoint with an even better user experience.
But is "nearly the same" good enough? And do the new players pose any real threat to PowerPoint, the king of the SlideShow Throne? Time will tell!
But in the meantime, here are my predictions for the presentation software solutions that will dominate 2023 and beyond:
1. PowerPoint Is Big, but…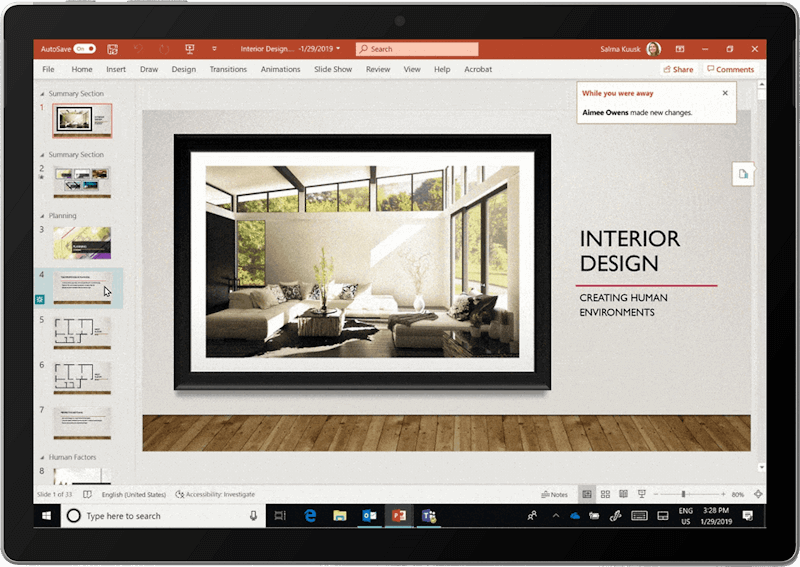 Come on, who else did you think would be at the top? It's all good that you want to root for the underdog, but nobody comes close to PowerPoint's firm grip on the presentation software market.
According to the latest 2023 stats, 37.15% of people over 16 in the UK have used PowerPoint in one way or another.
What Makes PowerPoint So Powerful?
In addition to being a household name, PowerPoint has all the features you'd need to create a professional presentation. What it doesn't have in shiny bells and whistles, it makes up for with a well-rounded package included with the O365 suite:
Templates

Multimedia integration for images, videos, audio clips, and even gifs of those memes we like so much

SmartArt for diagrams, flowcharts, etc.

Presenter View

Real-time collaboration
But that doesn't mean people are willing to stick by it because…
2. Google Slides Is Growing as a Digital Presentation Tool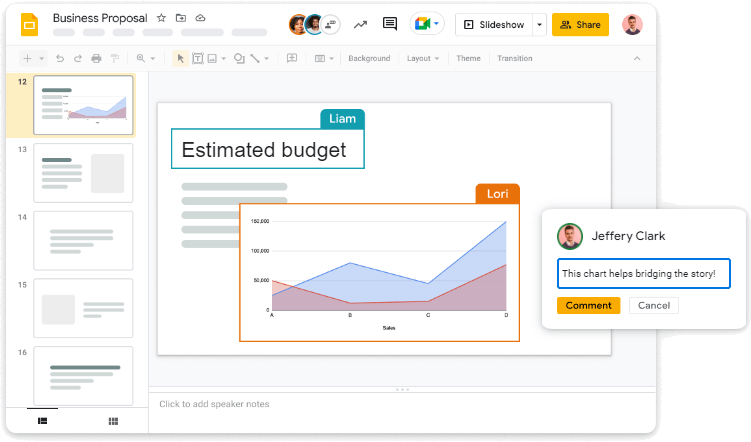 In the same study that demonstrated PowerPoint's popularity, I noticed that Google Slides was right on its heels. Over 13% of users in the UK have used Google Slides. And again, you can clearly draw a parallel: PowerPoint comes with one of the most popular business workspaces, Office 365.
On the other hand, Google Slides comes with the Google Workspace. Plus, it's free.
Why Is Google Slides a Good Presentation Tool?
Even I can say that creating a presentation with Google Slides is a pretty smooth process, with plenty of features to help:
Templates and animations

Multimedia integration

Real-time collaboration

Q&A

Polls
It's pretty much the same as PowerPoint, but web-based and easier to access. The only difference is the Q&A and Polls features, which can come in handy when holding virtual presentations.
3. Meet the Ultimate Presentation Player: SlideDog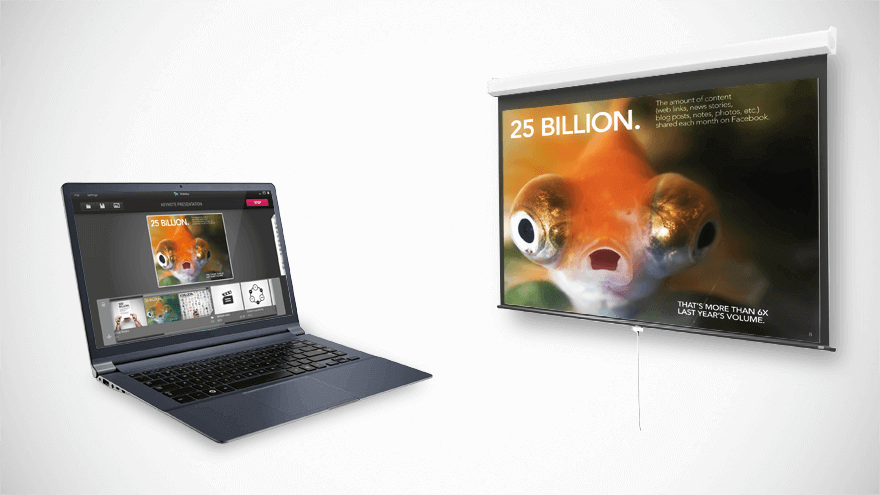 Okay, putting yourself up there among the top threes is maybe a bit cocky, but hey – it's our blog! While SlideDog isn't a slide composer, it's the ultimate presentation player. You don't have to stick by one tool if you want to create a presentation that will rock your audience's world – all you need is SlideDog, and you'll be able to create a multimedia extravaganza.
SlideDog allows you to seamlessly blend different media types into a single presentation. You can combine various file formats, such as PowerPoint slides, PDFs, videos, web pages, and more!
And we're constantly growing and expanding by including new features that allow you to interact with your audience, share slides online, and control your presentations remotely with your phone. 
Why Should You Try SlideDog?
Suppose you're a sales rep really trying to win over that white-whale account for web redesign. Your prospect keeps seeing the same things, no matter who they speak to. The sales pros queue up the PowerPoint, Slides, or Prezi, and it sounds like the same old recipe every time.
Imagine this scenario: You fire up a presentation that actually looks different because it's designed with interaction in mind. On one slide, you're explaining how much you understand their challenges – on the next, you're showing them, in real time, how their website would change.
You're not vagueing – you're being specific.
They drop their phone or close that other tab and start focusing on you in earnest.
(And we both know how big of a difference that makes.)
Some of the key SlideDog features enabling you to do that include:
Multimedia support – from .ppt files and PDFs to videos and live web pages.

Playlist creation and seamless switching

Audience interaction features

Live sharing

Presenter view
Look, I don't want to toot our own horn, so try out the free version for yourself:
4. Prezi Emphasizes the Art of Storytelling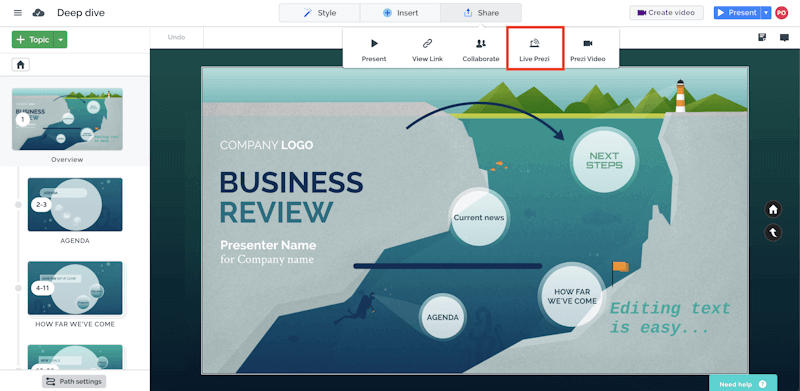 Novelty engages. For every PowerPoint presentation during which someone takes a nap, there is a presentation that makes the audience feel (positively) on fire after it's done. Prezi is the common culprit with its unique zoomable canvas.
If you're a teacher, you don't want the students to scroll on their phones under the desk – not when they could be getting more knowledge and reducing their study time. But you know how it is with shortening attention spans.
So, how does Prezi do it?
Key Prezi Features Making It One of the Best Presentation Tools
Create interactive charts, infographics, and visuals

Follow a storytelling journey with zoomable effects that unveil information at the right moment

Present while talking on the video (Think: Loom, but for presentations + your lovely face side-by-side)

Templates
If you want an engaging online presentation builder, Prezi is a great option!
5. SlideRocket Turned into ClearSlide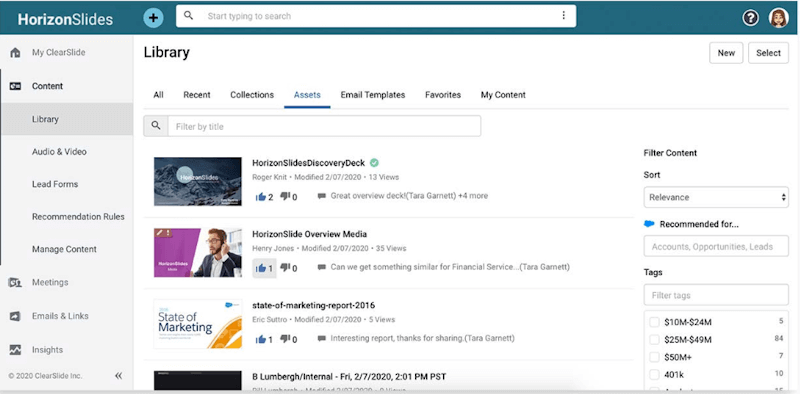 Finally, in one of my previous versions of this post (I'm keeping it updated every year as new software drops and an old runner-up takes the lead), I mentioned that SlideRocket seems to be shutting down.
Yep, it did. And it became ClearSlide, a good solution for sales teams. In addition to online presentations, it now offers content management, email tracking, and much more.
The key differentiator is audience engagement monitoring. ClearSlide presentations monitor the levels of audience engagement and notify you when someone's engagement level drops, so you can take action.
Key ClearSlide Features for Online Sales Presentations
Designed for sales teams; it integrates with Salesforce, enriches customer data, and more.

Multimedia integrations for images, videos, web pages, etc.

Engagement analytics
If you don't find engagement analytics icky or often use presentations to warm up your leads, give ClearSlide a go!
How Do I Pick the Right Presentation Tool?
Picking the right presentation tool is like choosing the perfect outfit for a special occasion. You want something that fits you well, makes you look good, and helps you shine. Here's what to look for:
Know Your Style:

Just like you'd choose clothes that match your style, pick a tool that aligns with your presentation needs. If you're all about sleek and professional, PowerPoint might be your go-to. If you're feeling creative and want to mix things up, Google Slides could be your choice.

Comfort Factor:

Think about how comfy you feel in your outfit. Similarly, consider how comfortable you are using the tool. If it's a struggle to navigate and create, it's like wearing shoes that pinch your toes – not a good fit.

Looks Matter:

A snazzy outfit catches eyes, right? Look for a tool that helps your content stand out visually. If it offers eye-catching templates, cool animations, and easy multimedia integration, you're on the right track.

Check the Price Tag

: Consider the cost and the value you get in return. Some tools are excellent for pro users, but you might not want to splurge if you only need a minimalist presentation once every few weeks. 

Try Before You Buy:

It's like trying on clothes before you buy them – test the tool! Many offer free trials or basic versions (

SlideDog

included).

Community and Reviews:

Checking reviews is like asking friends if an outfit looks good on you. Look for a tool with positive feedback and an active user community – a sign that it's well-loved and reliable.
The "perfect" tool will vary based on your style and why you're using it. Don't be afraid to experiment until you find the one that makes you feel like a presentation star!