Best PowerPoint Alternatives and Presentation Tools of 2023
Dag Hendrik Lerdal
Updated on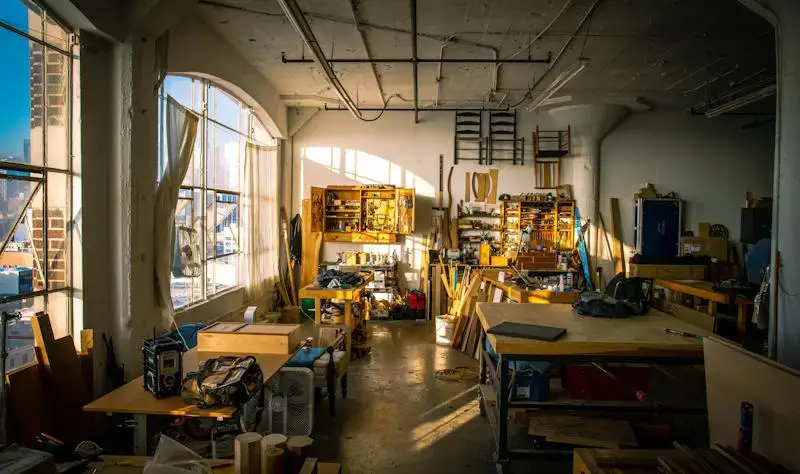 It's 2023, and I still meet people who can only name one presentation slideshow tool. Guess which one! Yup, the almighty Microsoft Office PowerPoint. While that isn't a problem per se (PowerPoint has earned its reputation), it also means people may not be using the tools they need for their specific situations. 
So, in this article, I've tested and created a list of the best PowerPoint alternatives and presentation tools of 2023.
I'll emphasize the following:
Pricing

– Subscription or one-time fee? Free as in free beer, or free with ads/watermark?

Ownership of presentation media

– Can you save your presentations offline, or are they stored in the cloud?

Presentation portability

– Are your presentations created in a proprietary closed format, and can they be exported to standard file formats like PPTX, PDF, etc.?

The provider's track record

– Has the provider been around for a long time, and does it have a reputation for treating their customers well?

Features

– Do the tools stand out as rich in useful features for presentation authors?

Supported operating systems

– Is the presentation software available on several platforms? If not, do they provide a compatible presentation viewer on other platforms?
Ready? Let's dive in!
The Easiest PowerPoint Alternative #1: Google Slides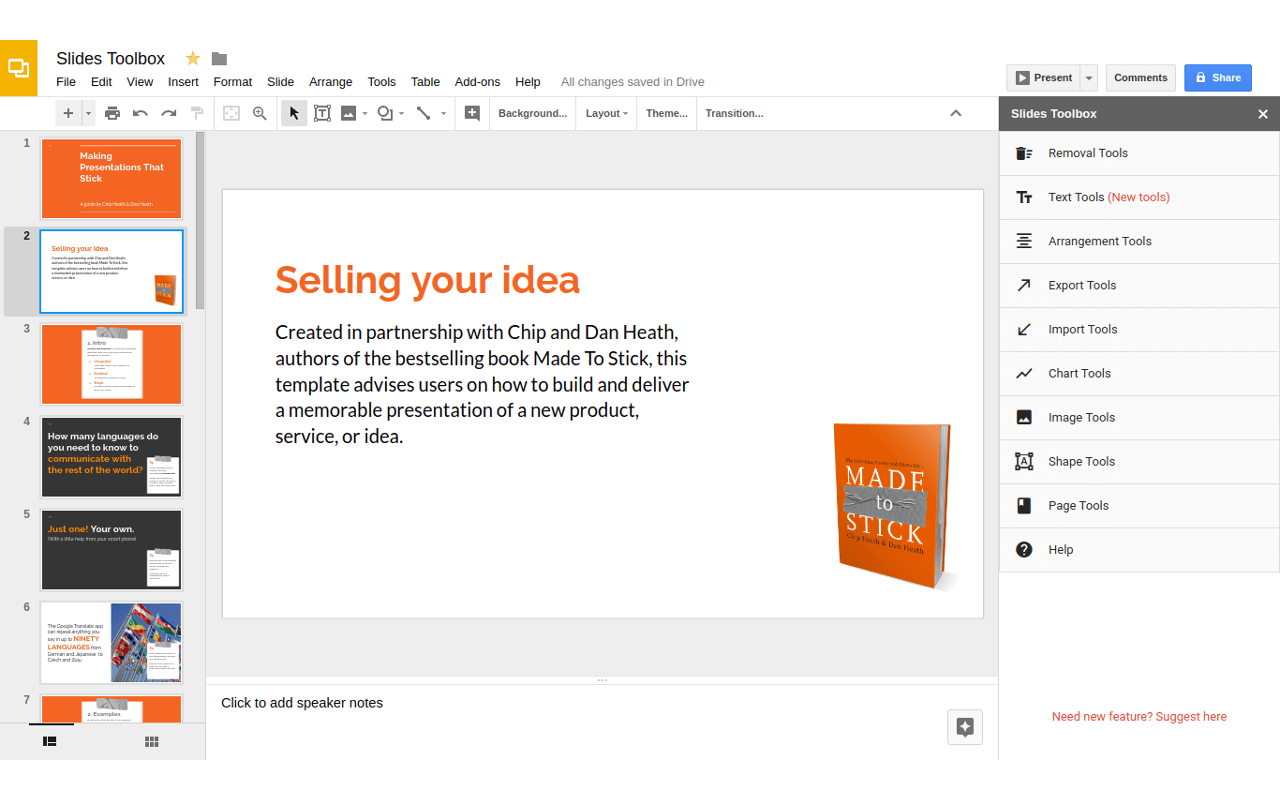 Google Slides is very similar to PowerPoint, except it's all in your browser. Unlike Office 365, Google Drive is free as long as you have a Gmail/Google Workspace account. 
If you're fine with your presentations being stored on Google's servers (and in your Drive account, where you can make files available online), Google Slides is a good alternative to PowerPoint. However, you can always download and export your presentations as PDFs, PPTX files, or images. 
No software downloads means you can access and edit your slides from any device with an internet connection.
Another reason to consider Google Slides is the real-time collaboration feature and the integration in the Workspace ecosystem. Again, think O365 – but Google's. If your whole team is already using Google Workspace, it makes sense to use Google Slides, too.
It's not too shabby when it comes to features, either:
Templates, slide transitions, and animations

Media integration to insert images, video, and audio into presentations

Commenting and real-time collaboration

Embeddable presentations

Q&A and polls

Export presentations as PDFs, PPTX, images, etc.

Access presentations offline with the offline editing feature enabled in Google Drive

Web-based
Alternative #2: Apple Keynote for Mac Fans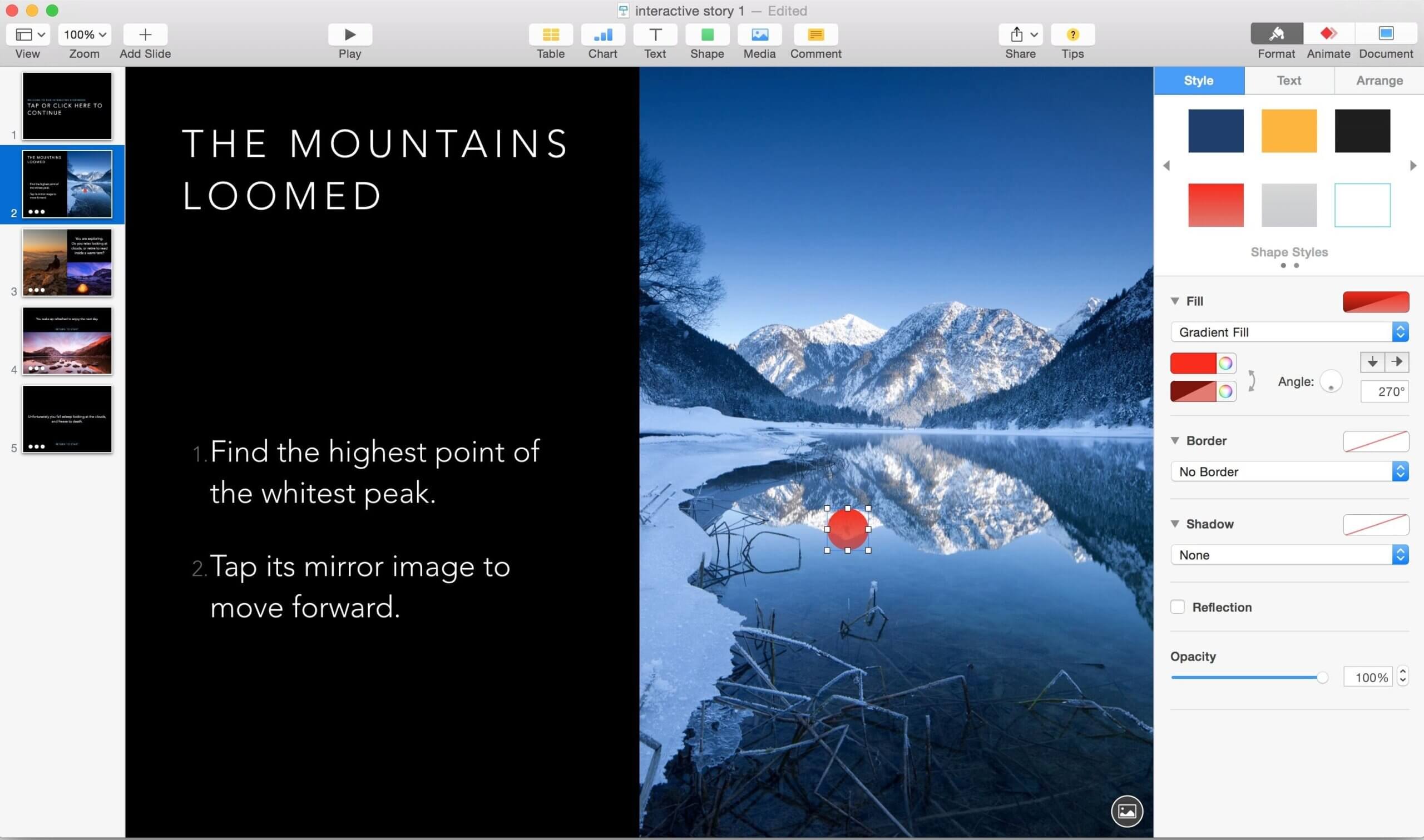 Some folks are die-hard Windows users; others prefer Mac. If you're in the latter group, you might switch to Apple Keynote as your go-to presentation tool. And guess what? No fees. If you've got an Apple device, Keynote is 100% free. 
Storing your presentations? Keynote syncs through iCloud, so your creations remain within your Apple ecosystem. The offline editing feature ensures you're not bound by Wi-Fi. You'll also be able to export your presentations as PPTX, PDF, movie, animated gifs, images, HTML, and other formats. 
(Unfortunately, glitches can pop up when exporting, so double-check before you present.)
The features are nothing to scoff at, either:
Live collaboration

Control the presentation from an iOS device using Keynote Remote

Presenter view

Templates, effects, animations, graphic assets + Apple Pencil 

Multimedia: live video feeds, and YouTube and Vimeo videos

Support for OS X

Export to PPT (possible glitches), PDFs, and more
Alternative #3: LibreOffice Impress for the Budget-Conscious Presenter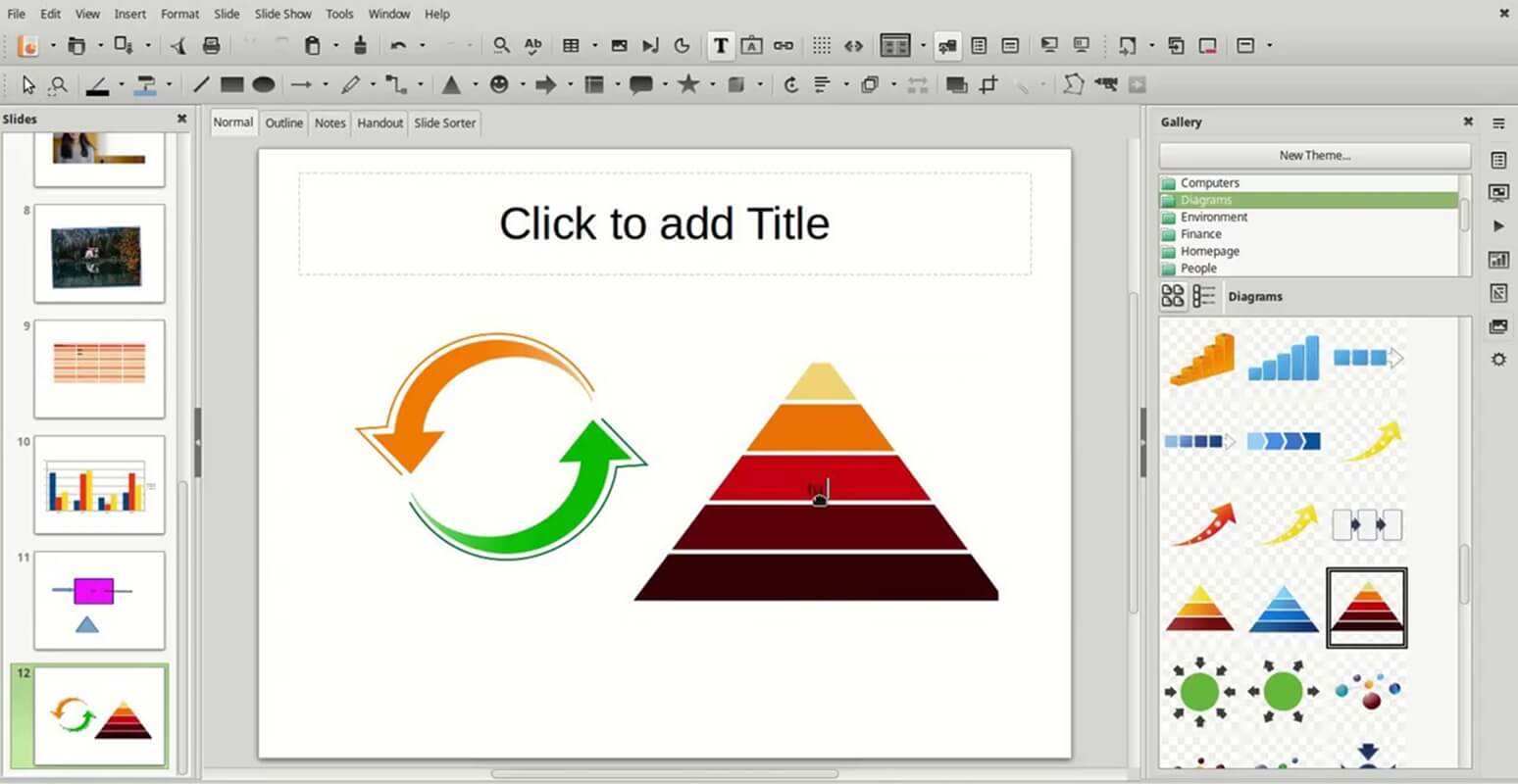 While LibreOffice Impress is not as sleek as some other options, it's a robust choice if you seek functionality without breaking the bank. Since it's an open-source tool, LibreOffice is free. 
Another pro is that if you've danced with other office suites, Impress's interface will feel like an old friend. It offers a layout very similar to Microsoft PowerPoint's. Unfortunately, the interface lacks the sleek polish of some commercial alternatives. 
Its cloud integration is clunky, too, so you might need to jump through a few hoops to get your presentation online. Otherwise, it will be stored on your PC. 
Of course, the good thing is that you can export your presentations as a PowerPoint file, PDF, or even in HTML format. Plus, LibreOffice Impress plays well with all operating systems: Windows, OS X, and Linux. 
Sounds good so far? Check out the features, and tick off the ones you'd like in a PowerPoint alternative:
Templates, slide transitions, and animations

Media integration for images and videos

Export to various formats, including PowerPoint and PDF

Cross-platform compatibility (Windows, macOS, Linux)

A wide array of formatting and design options

Integration with other LibreOffice tools
A Note on SlideDog, the Most Powerful Addition to Your Presentation Toolkit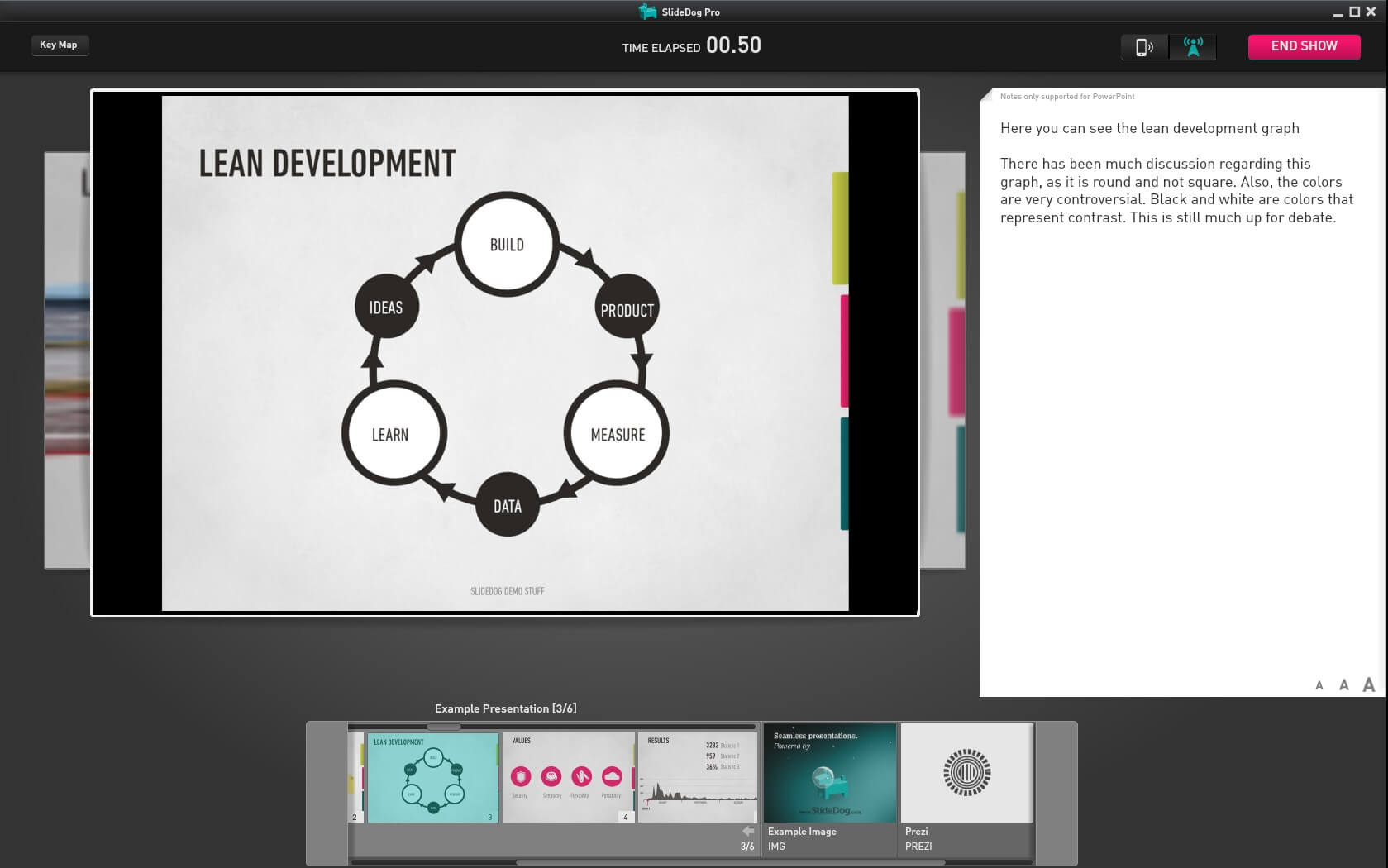 Let me jump in real quick to say that if you're looking at PowerPoint alternatives, consider the reason you're trying to find them. Is it just the availability online and a few extra features, or is it the fact that your presentations need more power?
SlideDog allows you to combine PowerPoints, Prezis, PDFs, live web pages, and many more elements into one easy-to-create playlist. You don't have to switch between different apps during your presentation just to maintain your audience's attention.
As soon as the playlist is loaded, your content will play back as if it's just one seamless file. 
Why Should You Try SlideDog?
SlideDog features include:
Real multimedia support:

Combine PowerPoints, Word and Excel files, videos and YouTube videos, live websites, and much, much more in one seamless playlist.

Live sharing:

Send your participants a link to your online channel, and they'll be in with a click.

Interact with your audience:

Engage your participants with polls, Q&A, and audience chat features.

Remote control:

Control your presentation from any web-enabled device and maintain full control via the SlideDog Remote app.

Digital signage support
Store your files locally or in your online storage (Drive, Dropbox, or OneDrive)
Windows OS
SlideDog comes with a free version to test it. The paid options start from $19/month for 2 seats, free upgrades, and the complete feature set. 
PowerPoint Alternative #4: Prezi for Visually Engaging Presentations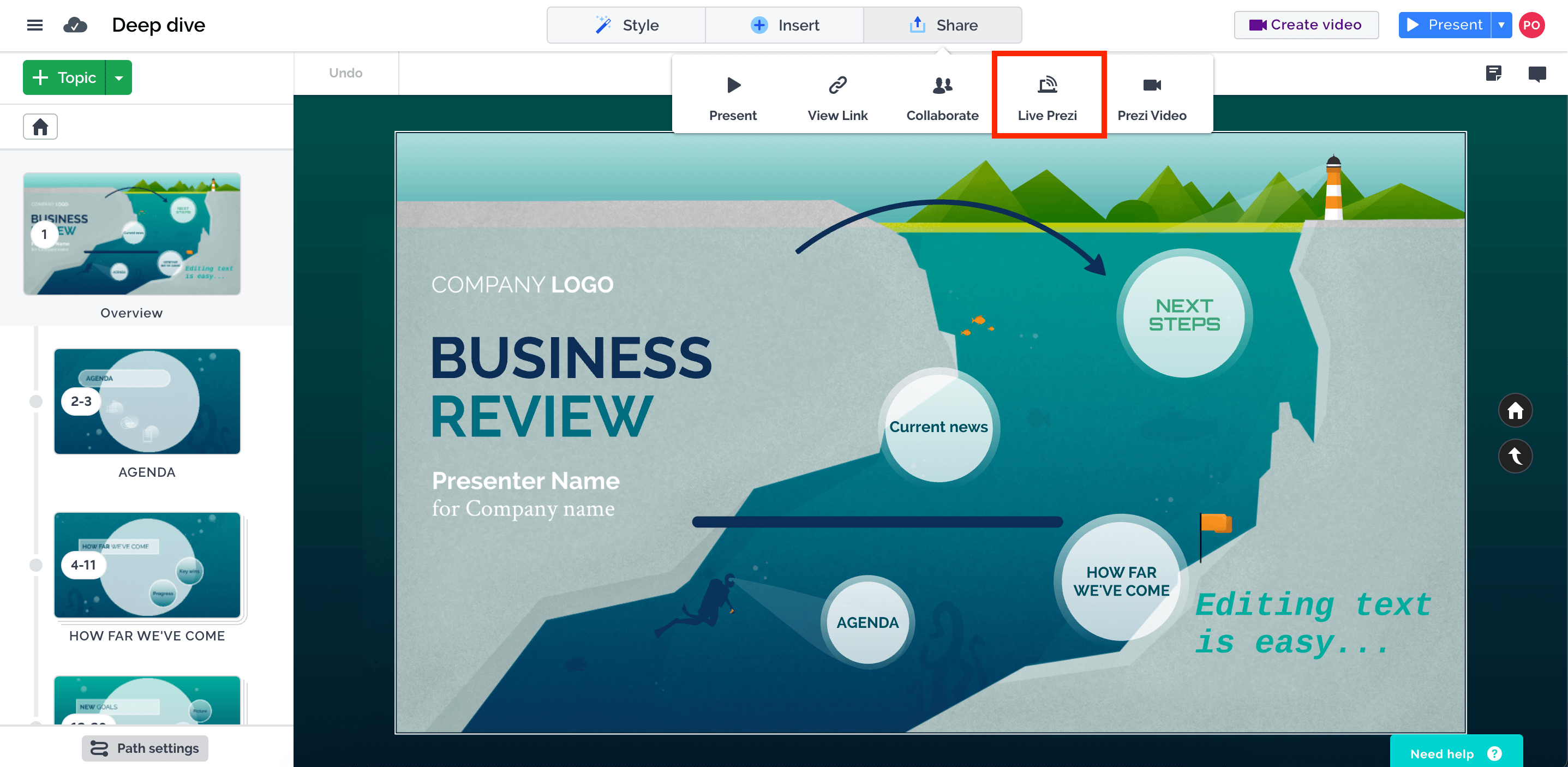 With Prezi, you're not just walking down linear roads but soaring through dynamic skies. Prezi focuses on interaction and engagement with its zoomable presentations and interactive infographics and charts, which makes it a great PowerPoint alternative for situations where attention is what makes or breaks your presentation.
The side-by-side display of your presentation while you narrate through video is a really nice touch, too!
Prezi is cloud-based, making it accessible from anywhere with an internet connection. However, if you need to access or present your content offline, you'll need to upgrade to one of the higher-priced plans. 
You can export your Prezi presentation as a PEZ (Prezi) file, PDF, and a few others, such as an .EXE file that you can load into a SlideDog playlist. Unfortunately, you can't directly export to PowerPoint, and the exact file formats you'll be able to export greatly vary depending on your plan. 
Finally, Prezi isn't free. The plans start from $5/month and increase depending on the features you'd like to get. 
Are the features worth it? Let's take a look:
Zoomable, interactive presentations

Display your presentation alongside your video

Interactive infographics

Presenter view

Web-based app

No direct way to export to PPT

Plans start from $5/month
Ultimately, Prezi is worth it if you're a pro presenter, but if you're not – well, you might not always want to jump through the hoops of their pricing plans.
Alternative #5: FlowVella for Digital Signage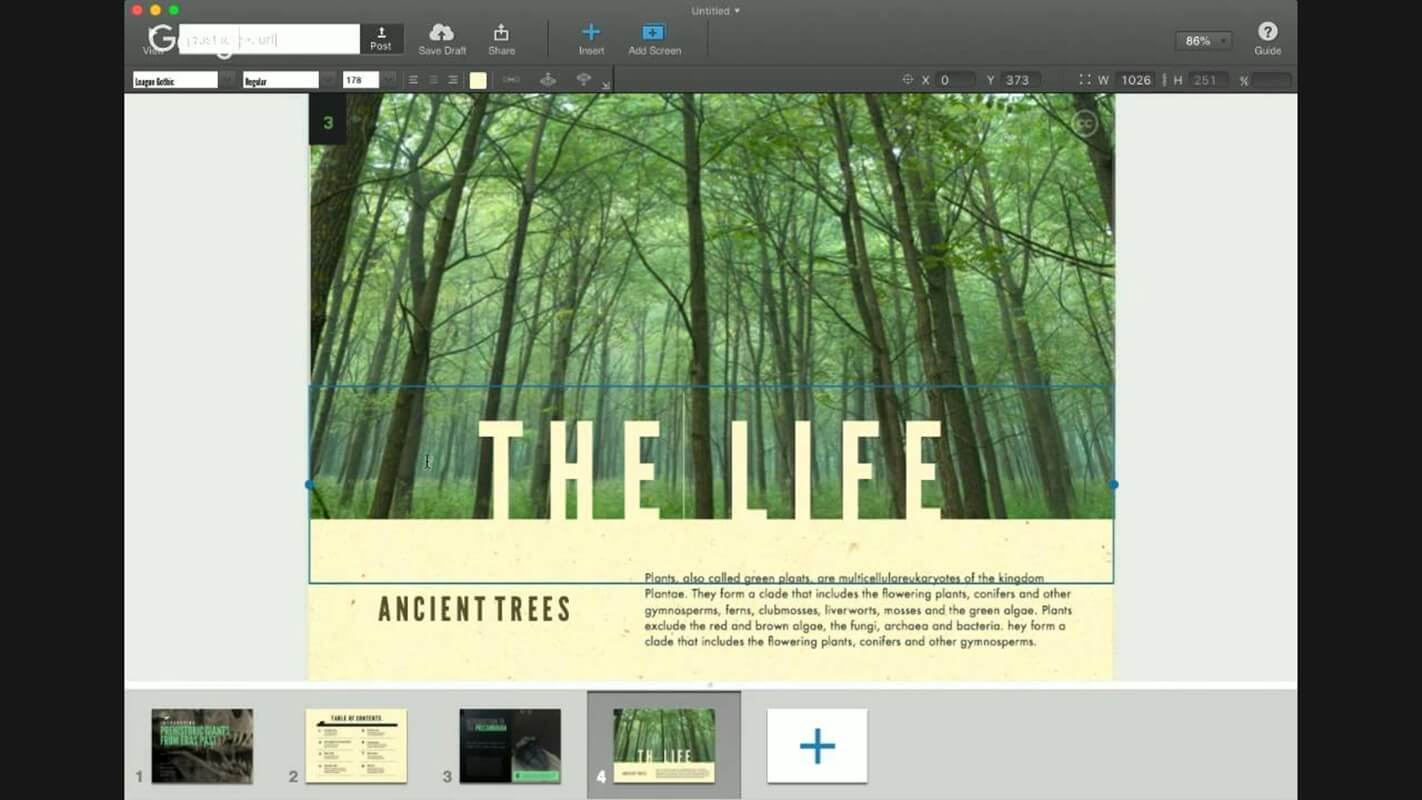 When talking to presentation makers, I typically recommend FlowVella when they need digital signage. The functionality is great – but the presentations look good, too. The navigation bar is a neat trick, too, as it can make your presentations more engaging.
(Yep, when you're in the presentation world, differentiating is the name of the game. If it looks like something your audience has already seen, you've already lost them. Familiarity is good – but only up to a point.)
Since you might need to get out in the field (especially if you're a real estate agent), you can present without WiFi. If that's easier, you can also export your FlowVella presentations to PDF, PowerPoint, and other formats. 
FlowVella also plays well with Windows, Mac OS, and mobile devices. There's no truly free option, but the paid plans start from $10/month (or $60/year). 
Key FlowVella features include:
Multimedia presentations – PDFs, navigation bars, videos, and more

Digital signage support

Offline and online access

Export to PDF, PPTX, etc.

Support for Windows, Mac OS, and mobile

Pricing starts from $10/month
Alternative #6: Zoho Show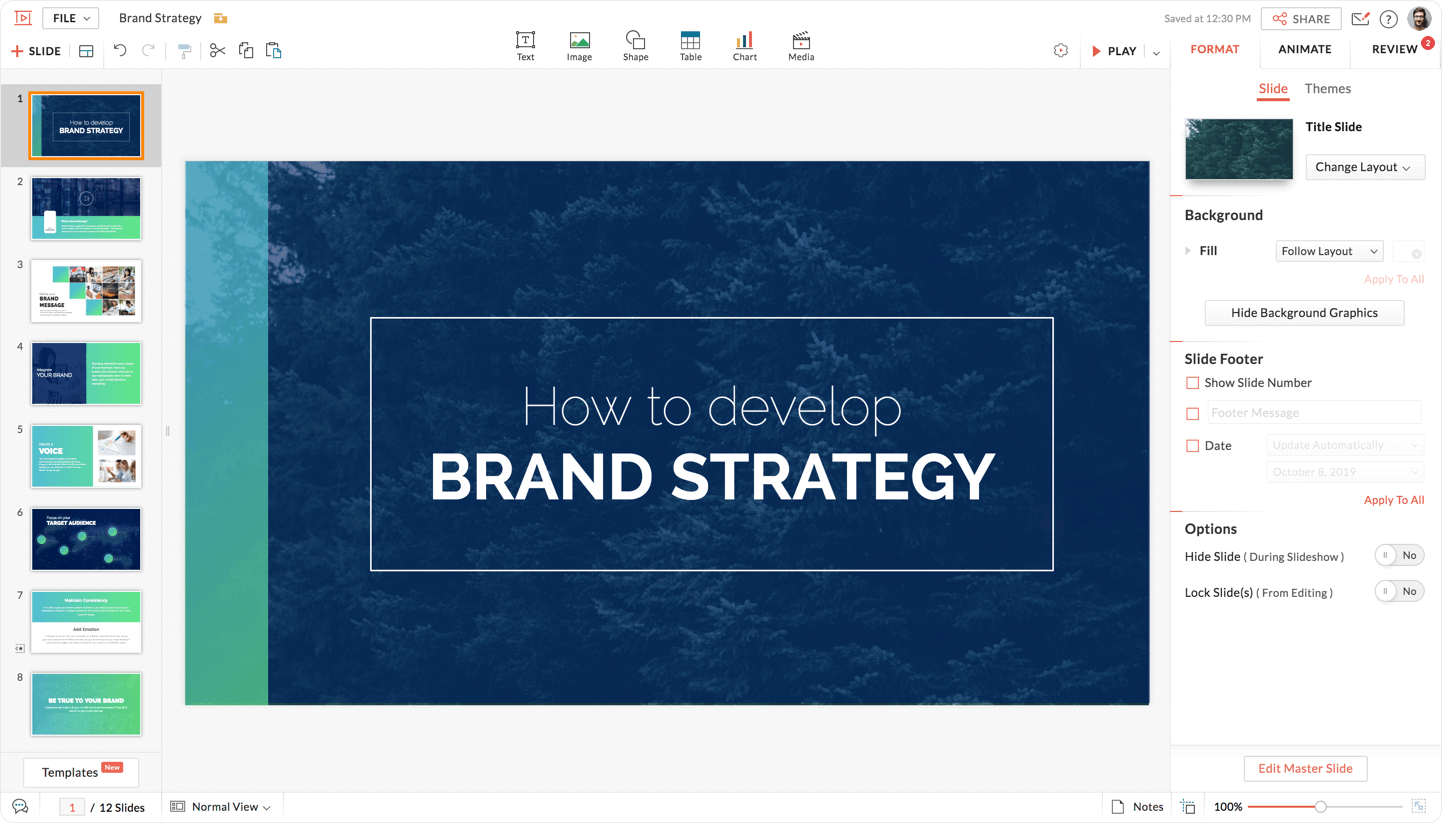 If you primarily need a PowerPoint alternative for business presentations, Zoho Show is a good option. The strength of Zoho Show lies in its ability to strike a balance between functionality and aesthetics. The platform doesn't just get the job done; it does so with finesse. Think Google Slides, but with a few extra shiny objects – all 100% free. 
My favorite part is the navigation feature. Similar to FlowVella, Zoho Show offers a way for the audience to interact with your presentations, which is a good option when you're sending them as marketing or sales collateral. 
Another standout aspect is Zoho Show's adaptability. The presentation tool allows you to present without the need for a continuous internet connection. And if you need to share your work in various formats, Zoho Show lets you export your presentations to multiple formats including PDF and PowerPoint, ensuring compatibility.
Finally, Zoho Show's compatibility isn't limited to just one operating system. It seamlessly integrates with Windows, Mac OS, and mobile devices, and you can use it as a web-based app. 
You might like the following features:
Templates and design tools

Interactive navigation options

Offline presentation capability

Export to various formats

Windows, Mac, and mobile device-compatible

ZohoShow is free
Alternative #7: And Now for Something Completely Different with Mentimeter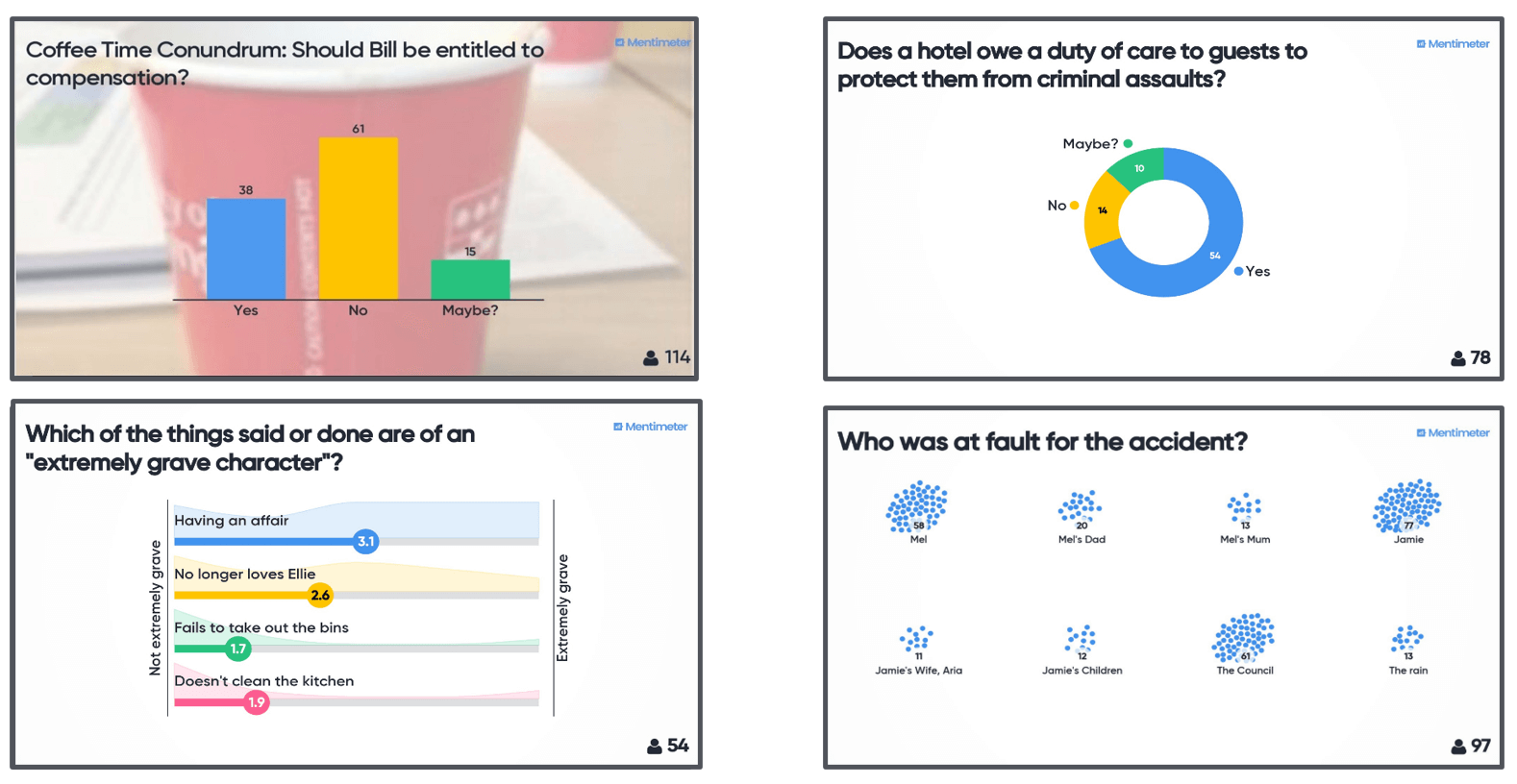 When the goal is to transform a run-of-the-mill presentation into an interactive and engaging experience, Mentimeter emerges as a great PowerPoint alternative. From live polls that gauge instant feedback to dynamic quizzes that challenge your audience's knowledge, Mentimeter offers a plethora of tools to stimulate interaction.
The interactive setup looks like a great PowerPoint alternative for educators, but I can assure you I've seen more than a few HR presentations where the audience kept their eyes peeled just because the data was visualized dynamically.
When it comes to access, you'll need an internet connection to run your Mentimeter presentation. Plus, it won't be easy to export it as anything other than a PDF or a set of images, which can put a dent in your grandiose presentation plans.
Still, it's a web-based app, so you can use it regardless of your operating system.
Finally, let's talk money. Mentimeter has a free plan for up to 50 monthly audience participants. However, if you want access to audience analytics and other snazzier features, you'll need to consider the paid plans, which start from €11,99/month. 
Speaking of features specifically, Mentimeter offers:
Real-time interactivity with Q&A, polls, and quizzes

Interactive slides

Cloud-based

Web-based app

Free plan (paid options from €11,99/month)
PowerPoint Alternative #8: Ludus for the Design-Savvy Presenters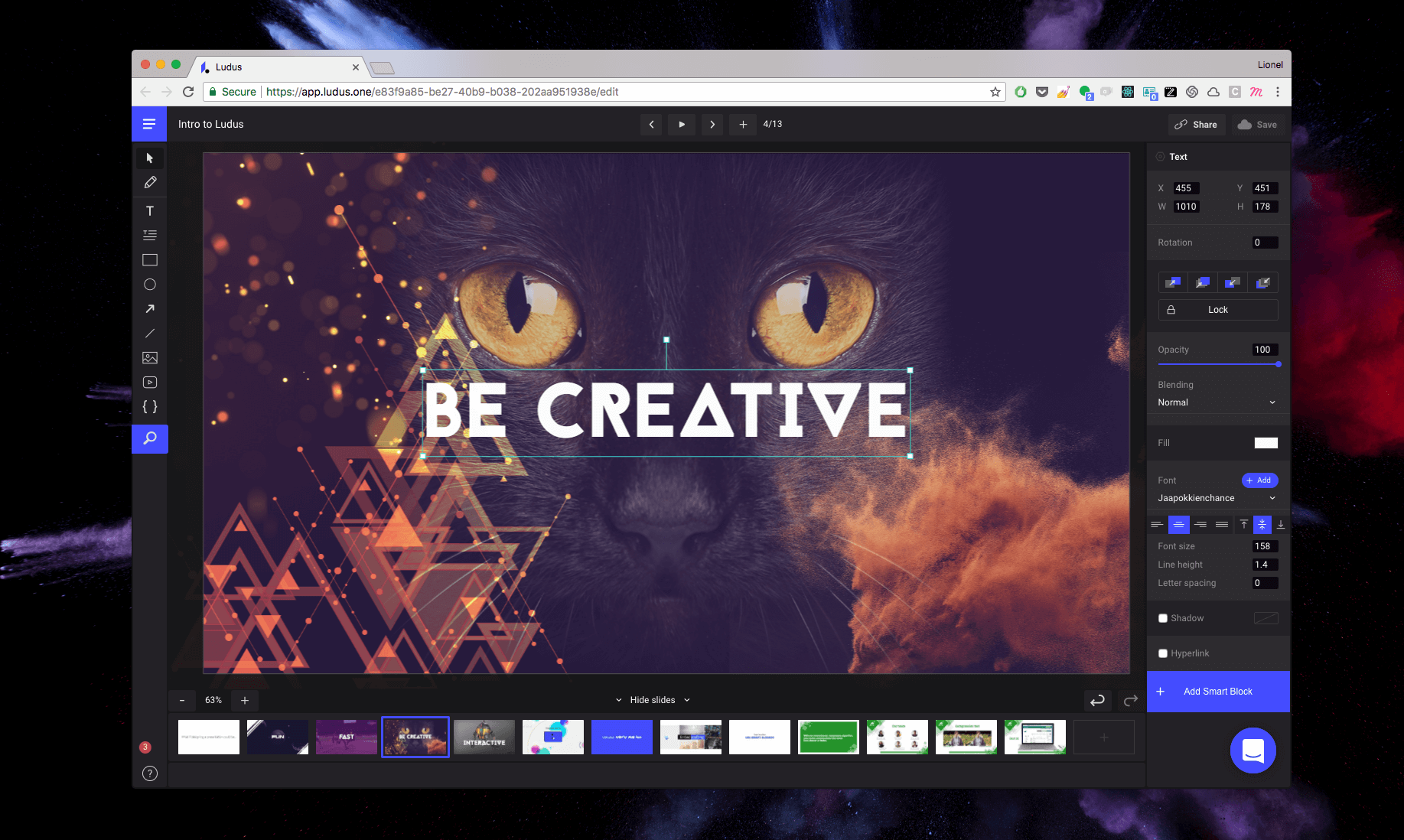 When I imagine graphic design presentations, I imagine that the designers are using Ludus as their PowerPoint alternative. Going beyond the ordinary, Ludus redefines the concept of presentations, transforming them into immersive visual journeys. You get a lot more control than you would with PowerPoint, including the ability to create dynamic presentations, use blending modes, manage fonts, and more. 
Plus, you can collaborate with your team in a very Figma-like way. 
Now, Ludus looks great – and that's its main selling point. Unfortunately, you won't be able to present offline unless you export to HTML. However, you can export to PDF and images, too. 
Since it's web-based, you can use Ludus regardless of your OS, but it doesn't come for free. The plans start from $14,99/person/month. That's why, personally, I only see it used in graphic design settings where the visuals are the money-makers through and through. If you only need business presentations that engage your audience, you'll find much more affordable PowerPoint alternatives in this list.
The features sure are fancy, though:
Creative design features and animations

Multimedia integration, including live web pages

Live collaboration, Figma-style

Web-based app

Export to HTML, PDF, or images

Plans start from $14,99/month/user
Which PowerPoint Alternative Will You Choose?
That depends on you! Mainly, I recommend looking at your presenting style, needs today (and tomorrow), and pricing. Ideally, you'll find a tool that fully supports you at a price point you can stomach.
However, make sure you try before you buy! That's why I made sure we offer a free version for SlideDog.
Give different tools a whirl and find the right fit!