SlideDog at Star of Hope
We wanted to take a closer look at how pastors and leaders in these organizations use SlideDog to improve their presentations and make them more interactive. This way they can make the experience more professional and hassle-free so they can focus on what is important.
Mark Presson, from StarOfHope.us, is one of these users.
He leads and speaks at fundraising events at Star of Hope. It's a Christian organization that helps children across the world, in areas such as education and health. They have projects in 15 countries around the globe!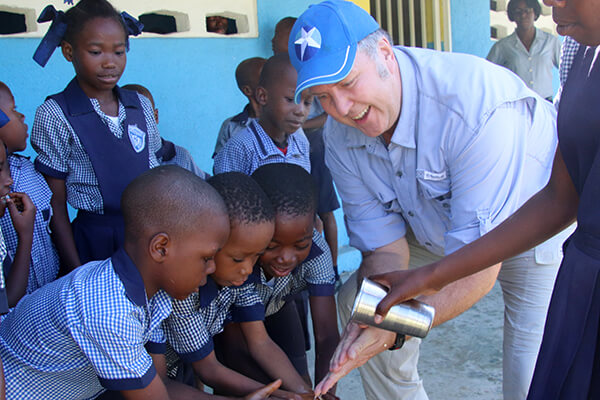 Presentation Setup
We asked Mark about how their usual presentation setup is and how they use SlideDog.
---
"Our crowds are usually always under one hundred people. We use multiple screens and projectors; usually one for the front and one for the back, especially if the dinner or event has round tables, we don't want people twisting around getting a crick in their neck.
"
---
Mark also told us that they tend to combine photographs, videos, and PowerPoint files and use SlideDog to switch back and forth between all of them.
Remote Control
SlideDog also offers a companion app. It includes a remote, which lets you control your presentation from your mobile device. This is also one of the features that Mark uses at presentations during events & dinners.
---
"I have the app on my Android phone and use it for going backward and forwards. The app removes the much unneeded vocal "next slide"… So far the app has been seamless and working very well – it is like the main tool."
---
Another useful area in which SlideDog is being used is at the management/board level. Many of our users use SlideDog to present during board meetings because of its support for multiple file types.
Mark told us that even though he uses it for board meetings, its power and main use really shines through during events. He even gave us a tip which would benefit all users of SlideDog:
---
"Have more clips and photos at the end of the presentation. If the tail of the conversation goes that way, you have the material ready to present."
---
Final Words
Mark also told us he would recommend SlideDog to other users. He chose SlideDog because it was simple and guaranteed the ability to show or present different formats in a pleasant way. He was also happy with the stability and said it delivered even more than expected.
Thanks for all the kind words Mark, and thanks for taking your time to help us and our users to learn more about how SlideDog is being used around the world! To learn more about Star of Hope or contribute, we recommend you visit their website.
If you are new to SlideDog and want to see how SlideDog can improve your organization presentations, download the free version now and take it for a spin!